Gaia 133 11kW
Power Production
Specification
---
Gaia 133 11kW Wind Turbine
The Gaia 133 is easily recognisable due to it's unique dual blade design. The turbine features an over sized rotor with a 133m2 swept area, allowing for extremely efficient energy generation.
The second main feature of the Gaia 133 is its exceptionally quiet operation. Noise is generated by small movement as the blade tips of a wind turbine cut through the air, with the noise level increasing if the rotors turn faster. The Gaia has three measures in place to reduce this noise level as much as possible: one less tip than traditioal triple-bladed models, tips designed not to feather or furl in the wind, and a fixed rotor speed.
The Gaia originated from a Danish design and carries a reputation for reliability. This smaller yield turbine model is popular with UK farmers.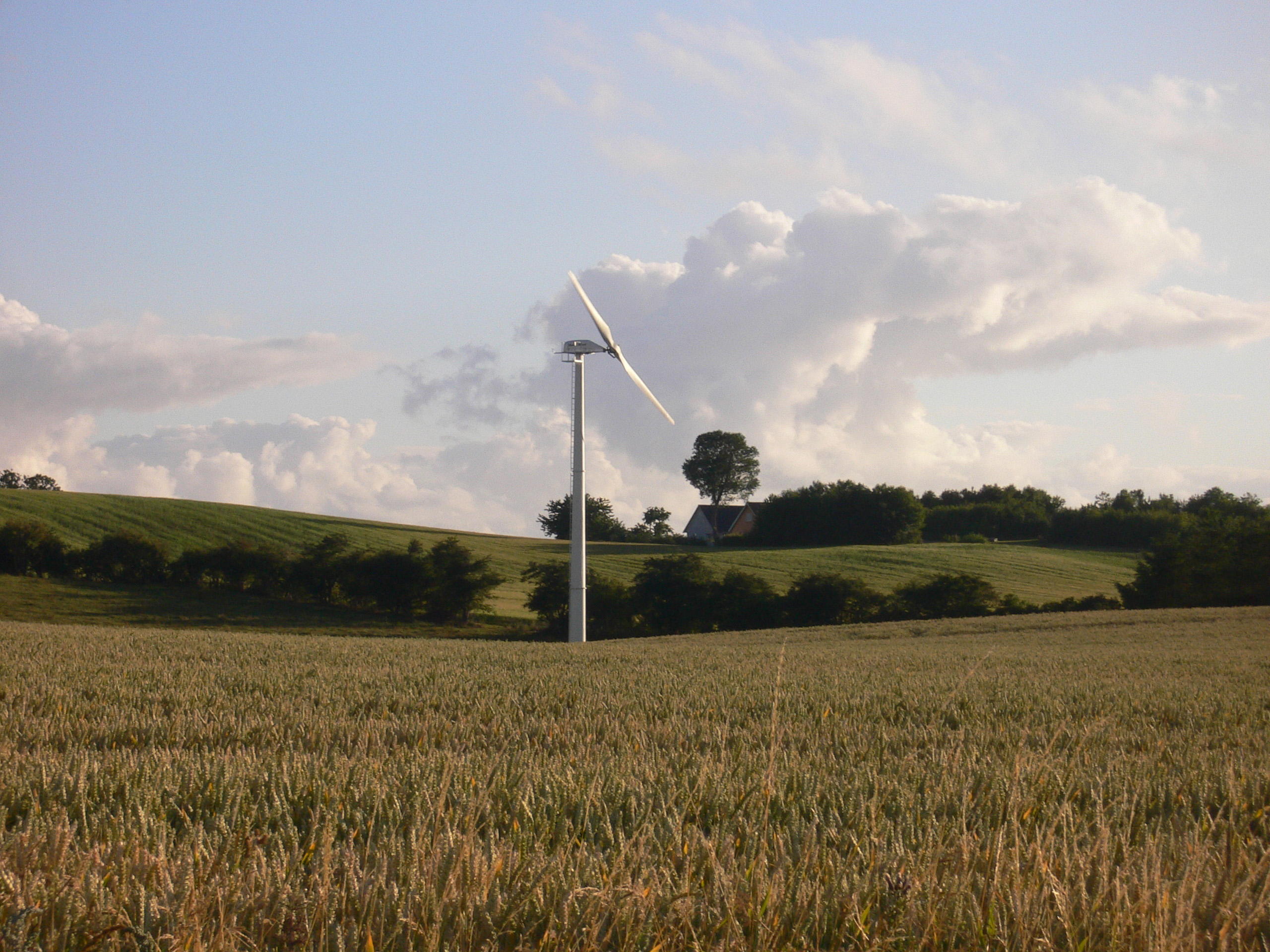 Power Production
The Gaia 133 is rated at 11kW with an expected Reference Annual Energy (RAE) production of 27,502 kW at an average wind speed of 5 m/s.
The Gaia is particularly efficient for it's size because it features a very large swept area. The larger blades also allow the turbine to begin producing power at the relatively low cut-in wind speed of 3.5 m/s.

Specification
Gaia 133 Specs
Turbine
Configuration Dual blade
Rated Power 11kW 
Application Direct Grid Tie
Rotor Speed 56 RPM
Turbine Class 3
Cut In Wind Speed 3.5 m/s
Survival Wind Speed 52.5 m/s
Cutout Wind Speed 25 m/s (adjustable)
Rotor
Rotor Diameter 13m
Blade Material Glass Fibre
Power Regulation Passive Stall Control
Generator
Generator Type Two Stage
Configuration 3 phase, 400V@50Hz
Brake & Safety Systems
Main Brake System Mechanical brake; activates both automatically and via manual override
Secondary System Centrifugally activated aerodynamic brakes built into the rotor tips  
Automatic Shutdown triggered by High wind speeds, abnormal vibration, grid disconnection or overheating
Towers
Available Hub Heights 15m, 18m, 27m
Tower Type Monopole or Lattice Tower
Warranty
Standard 5 Years
MCS Compliant Yes
Back to the Small Wind Turbines
Service & Maintenance

Earthmill Maintenance provide comprehensive service and maintenance packages to keep your technology running at optimum efficiency.

About Service Packages

Condition Monitoring

The most important choice you can make to protect your turbine by identifying faults at an early stage to avoid major incidents

Find out more

Buy/Sell Turbines

Flexible options to cash in on your existing turbine by selling it to our partners or begin the process to purchase and install a new one

Buy/Sell Options