Wold Top Brewery | Endurance E-3120 50kW
---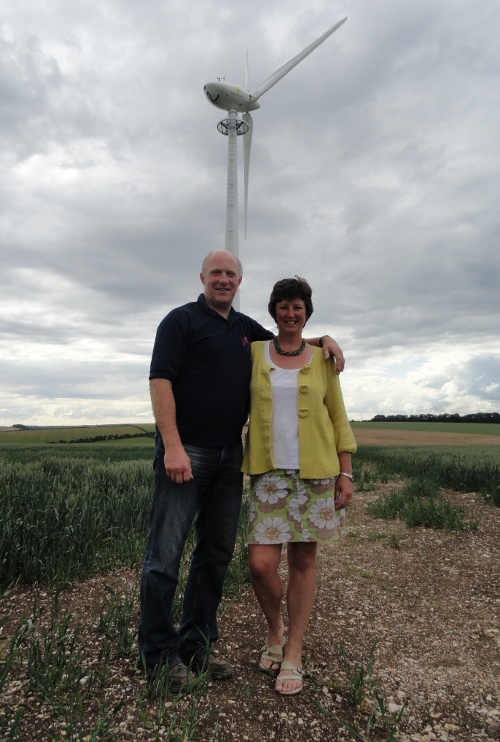 Wold Top Brewery at Hunmanby Grange is located on 600 acres of the Yorkshire Wolds, which has belonged to and been farmed by the Mellor family for generations.  Their award winning ales are packed with features and ingredients sourced from the surrounding lands including the names of the brews, water from a borehole located only meters from the brewery and barley which is grown on the land and malted by the family.  Even the power to run the brewery comes from the land, as in 2011 the Mellors of Wold Top Brewery became the first in Yorkshire to install an E-3120 wind turbine.
Now the world's leading installer of Endurance turbines, the Wold Top project marked Earthmill's first ever installation of an Endurance model.  The second E-3120 turbine at Wold Top followed the first installation only four months later.
"We were introduced to the endurance turbine and once we had looked at its characteristics and examined its potential then actually it was pretty straight forward that we would chose that machine," comments Tom Mellor. "The one thing that really attracted me to it was the fact that it looks and is virtually a big turbine scaled down rather than a small scale turbine scaled up.
"We looked at several different companies with a view to installing some renewable energy and because of the endurance turbine and Earthmill being their suppliers in this part of the world obviously we went with Earthmill.  We've been extremely pleased with their performance; ours was the first Endurance turbine to go up in Yorkshire and so it was all a bit of a learning curve for us all but Earthmill have maintained their professionalism throughout."
The Hunmanby Grange site is perfect for wind turbines, with lots of open space and an ideal wind speed of 6.5m/s.  The turbines are located over 800m from the nearest neighbour and approximately 3km from the nearest residential area at Hunmanby.  Careful planning was taken to minimise the visual impact of the turbines on the Yorkshire Wolds by siting them to appear as part of the farmstead, rather than isolated on the landscape.
The Wold Top installations are both exceeding their predicted generation outputs and are both within the Earthmill fleet's top ten performing turbines. Between them, the two turbines have produced nearly 800,000kW to date which is the equivalent of powering 194 averages homes for a year.
"The turbines are performing really well; they've reduced our electricity bill by at least 90%. The reason it's not 100% is obviously the wind isn't there 100% of the time but it's more than offset by the amount that we get back from the excess power we send back [to the grid] whilst they're running," says Gill Mellor.  "As far as the brewery is concerned, it's been a major improvement in that we're able to say that nearly all the electricity in the brewery, of which we use a lot, is from a sustainable source.  We know that we've got that now for the next 20 odd years.  The wind is never going to stop blowing on the Wolds so it's been a very great addition as a marketing tool as well."
Wold Top Brewery represents a perfect example of a successfully diverse business which combines the very best traditional English craftsmanship with modern innovation and an environmentally ethical approach.  As well as using clean wind generated energy to power the brewery, the Mellor Family also maintain 35 acres of wildlife rich grassland and surround all crops with a two metre margin to maintain wildlife biodiversity.
Additionally to celebrating its tenth anniversary this year, Wold Top Brewery also won the national 2013 Red Ribbon Award for Innovation.  Hosted by The Family Business Place, MD Anita Brightley-Hodge had this to say:
"Wold Top Brewery were chosen as winners because of their clever thinking in raising the profile of their local area in order to attract new customers, because of their efficient operational procedures and because of their innovative thinking in harnessing natural energies to power their business. We are delighted to present Wold Top Brewery with this prestigious accolade and wish them continued success in running a fantastic family business."
Wold Top Brewery has always been an award winning installation in our eyes, so we're delighted to have the Mellors as our featured Wind Farmers this quarter.  And, knowing all this, we think Wold Top Beer tastes even better.
---
3 flexible ways to acquire a wind turbine
Service & Maintenance

Earthmill Maintenance provide comprehensive service and maintenance packages to keep your technology running at optimum efficiency.

About Service Packages

Condition Monitoring

The most important choice you can make to protect your turbine by identifying faults at an early stage to avoid major incidents

Find out more

Buy/Sell Turbines

Flexible options to cash in on your existing turbine by selling it to our partners or begin the process to purchase and install a new one

Buy/Sell Options