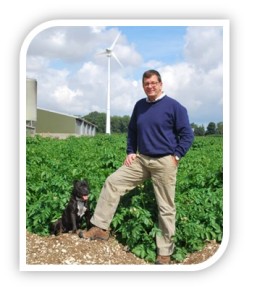 Earthmill Maintenance supply and install a range of 50 to 500kW wind turbines providing a comprehensive service for every step of the process.
While in recent years the government subsidies available for renewable projects have reduced, a wind turbine still remains a great way for businesses with a high energy requirement to meet carbon reduction targets and make savings on energy bills.
We are fellow investors in wind; many of the 300 operational wind turbines that we manage are owned outright by Earthmill Maintenance so nobody is better equipped to handle your wind turbine installation. 
The benefits:
Reduced energy bills
20 years of index linked income
Additional income from exported electricity
Reduction of your carbon footprint
Raise the green credentials of your business
Is my site viable?
The first step of a wind turbine project is to make sure that it is feasible to site a wind turbine on your land. Sites need to have a sufficient average wind speed and nearby access to 3 phase electricity. 
We can complete a feasibility study free of charge to research planning requirements, wind speed, grid connection costs and your energy needs; we will then advise you on which wind turbine is best suited to your site. We will also provide you with a 20 year financial forecast that you would be able to present to your Bank Manager.
Project Stages
We provide expert support through every step of the wind turbine installation. To learn more about what the process involves, you can use our click through guide to each step of the process. 
Contact us
Contact us today to find out if buying a wind turbine for your site is a viable investment. We can do the initial assessment of your site for viability remotely, we just need a few details and your postcode. 
Click here to request a free site assessment
Alternatively you can get in touch to discuss your options with one of our in-house specialists by email or telephone.
T: 01937 581011
E: info@earthmill.co.uk
---
Service & Maintenance

Earthmill Maintenance provide comprehensive service and maintenance packages to keep your technology running at optimum efficiency.

About Service Packages

Condition Monitoring

The most important choice you can make to protect your turbine by identifying faults at an early stage to avoid major incidents

Find out more

Buy/Sell Turbines

Flexible options to cash in on your existing turbine by selling it to our partners or begin the process to purchase and install a new one

Buy/Sell Options