News Filter
Date
2011

2012

2013

2014

2015

2016

2017

2018

2019

2020
News
Endurance makes advances in noise reduction
1st November, 2012
Endurance continue to improve the E-3 120 engineering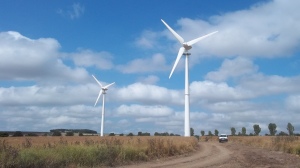 Endurance have been considering how to make the Endurance E-3120 55kW machine even quieter, in the interest of continued customer satisfaction and the acceptance of wind generation in the community.
How it works currently
The turbine operation varies between mild generation and mild power consumption in times of mild wind. The low wind operation results in a noise in some turbines.
Solution
Endurance have adjusted the software thresholds used by the turbine to disconnect from the grid. The turbine will then disconnect from the grid much sooner in marginal wind conditions. As a result of this change, the duration of the specific sound sometimes heard from the turbines will be greatly reduced.
The new amendments will assist with planning applications, hopefully assisting in reassuring neighbours' concerns regarding noise. Earthmill perceive this to be an extremely positive change and illustrates Endurance's commitment to making sure the E-3120 turbine is the very best it can be.