News Filter
Date
2011

2012

2013

2014

2015

2016

2017

2018

2019

2020
News
Earthmill proud to be part of the UK's Renewable Energy success story
7th May, 2015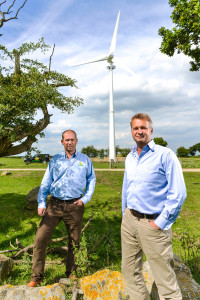 Despite all the noise and criticism of the renewable industry, the sector is continuing to succeed and contribute increasingly to the UK economy.
Overall green power now contributes 17.8% of electricity and over 5% of all energy.  While these numbers are growing rapidly, there is still a long way to go to hit the 2020 target of 15% of all energy from renewables and to reduce our carbon emissions by 80% by 2050.  We still need a further £65 billion of investment to achieve the 2020 target.
Over 50% of this green energy currently comes from wind power and onshore wind is now the cheapest form of renewable including new nuclear and by 2020 is expected to be cheaper than new gas generation.
Interestingly, despite the criticism of the governments Feed in Tariff support system, the vast majority of the £906m per year invested in onshore wind goes back into the UK economy.  Even taking into account the fact that most turbines are manufactured abroad, 69% of all expenditure remains within the UK with almost 50% remaining within the region where the turbine is installed.  All this investment adds less than £5 to the average household bill.
Since the launch of Endurance's new X series turbine which is manufactured in Birmingham, Earthmill are delighted to say that an even higher proportion of any turbine investment remains within the UK.  In fact over 13,000 people are now employed within the onshore wind industry in the UK.
Mark Woodward, Commercial Director of Earthmill commented "The onshore wind industry has been a great success over the last 5 years.  It contributes significantly towards our carbon emission targets, is cheaper than nuclear and all other renewables and can be rapidly deployed to enable us to achieve our 2020 green targets.  Distributed wind (single turbines often owned by a farmer or local community) has the added benefit of offering energy security and reduced price electricity to the local community.
Whichever party or parties are elected today, it is important we don't throw the baby out with the bathwater!  Large scale wind farms may have limited potential in the future, but single turbines owned by local farmers or communities still has a long way to go and over 70% of the population back the use of wind as part of our green energy mix going forward."