News Filter
Date
2011

2012

2013

2014

2015

2016

2017

2018

2019

2020
News
Earthmill the first to install the Endurance Wind Power X35Q 180kW turbine.
2nd September, 2015
Earthmill are celebrating after becoming the world's first installer of the new Endurance Wind Power X35Q turbine.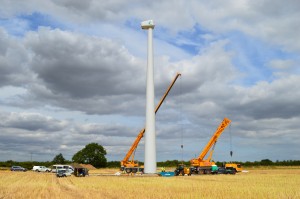 Based on a tried and tested Norwin design, the X35Q's increased blade length and low rotor speed make the turbine well suited for areas with lower wind speeds and smaller sites.  The increased swept area allows for high efficiency and the slower turning blades reduce noise. The 'Q' stands for quiet!
"The new model is an exciting edition to our turbine range," commented Mark Woodward, Earthmill's Commercial Director. "Being able to use a low voltage connection and removing the need for ground mounted transformers, the X35Q can reduce the overall cost of grid connection making the numbers stack up even on sites with a lower wind speed."
Andrew Pick, Yorkshire Farmer says: "We chose the X35Q as it is remarkably quiet. The 180kW generator made it possible to reduce our original grid quote for a larger connection from millions of pounds to something financially viable."
The X35Q is the fifth model to be released in the Endurance Wind X – Series Turbines.
Visit our X35Q page or, alternatively, contact our team on 01937 581011 for more information and a free viability assessment.