News Filter
Date
2011

2012

2013

2014

2015

2016

2017

2018

2019

2020
News
Earthmill win Medium Sized Business of the Year at the Ackrill Business Awards
1st May, 2013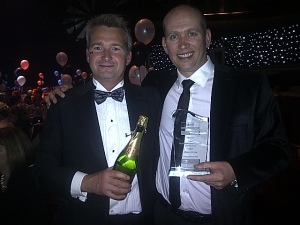 The Ackrill Business Awards are extremely prestigious awards within the North Yorkshire and Harrogate area for local businesses. Earthmill decided to enter this year and despite a lot of tough competition was fortunate enough to be shortlisted for Medium Sized Business of the Year.
This particular award was aimed at medium sized businesses with between 11-50 employees. The main focus was around company growth including turnover, plans in place to expand the business and how that was going to be implemented.
Earthmill attended the award ceremony on Thursday evening, 25th of April, with 12 members of the Earthmill team in tow. There were a lot of worthy winners announced and Earthmill were extremely proud to be among them, winning Medium Business of the Year!
Earthmill's submission was commended for standing out as a very thorough application, which ultimately led to the win. This is something that Earthmill are extremely proud of as we feel it is a fantastic reward for the hard work the Earthmill team have put in for the last four years.
This was a particularly poignant win for Managing Director Steve Milner, who started the business in 2009 and for Mark Woodward the Commercial Director. Earthmill are extremely grateful and proud of the achievement and for the support from the Ackrill Business group as well as the local community.