"The remote monitoring software gives us great visibility of the turbines performance"  – Guy Russell, Renfrewshire 
---
Remote Monitoring
To ensure your peace of mind, Earthmill monitors all turbines remotely from when they are commissioned.  This allows us to keep an eye on your turbine and respond quickly if maintenance is required.  As well as monitoring the turbines from HQ, you will have your own access to the software and will be able to log in and find out the status and production data from your turbine at any time.
Remote monitoring allows you to monitor your wind turbine's health and performance from anywhere in the world, as long as you have an internet connection. The facility is usually available both in your computer browser or as a smartphone App, featuring bank level security to ensure the protection of your data.
The software allows you to track your live energy production and power output, wind speed, offset carbon emissions and operational metrics.  All collected data is stored so that you can easily track the performance history of your turbine.
Remote monitoring is safe and convenient; it can be used with one turbine or multiple turbines.  Get in touch with us to find out more about remote monitoring.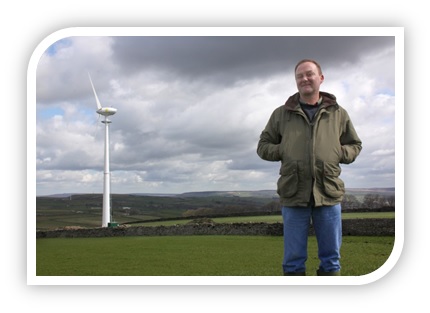 "It's great to be able to show people what the turbine's doing and how many houses needs it has produced. It was especially nice to be able to keep an eye on it from the other side of the world when on holiday"
Jonathan Sharp, Yorkshire Farmer
---
Service & Maintenance

Earthmill Maintenance provide comprehensive service and maintenance packages to keep your technology running at optimum efficiency.

About Service Packages

Condition Monitoring

The most important choice you can make to protect your turbine by identifying faults at an early stage to avoid major incidents

Find out more

Buy/Sell Turbines

Flexible options to cash in on your existing turbine by selling it to our partners or begin the process to purchase and install a new one

Buy/Sell Options