Overview
Power Production
Specification
---
Endurance X35Q 180kW
Making more sites work
The 180kW X35Q incorporates the same large rotor design as the X35 making the turbine well suited to areas with a lower average annual wind speed.
The 'Q' stands for quiet. A slower turning rotor enables the distance required between the turbine and neighbouring properties to be drastically reduced, rendering more sites viable for development.
Most local distribution network operators (DNOs) classify grid connections under 200kW as 'small-scale'. This renders the smaller 180kW generator of the X35Q easier to successfully obtain a grid connection in constrained areas.
Despite an impressive power yield capability, the X-35Q still falls within farm-scale planning parameters, unlike larger 500kw+ turbines which usually require higher strategic level planning applications.
The X35Q can often be connected using a low voltage (LV) connection, which removes the need for an expensive ground mounted transformer and substation and drastically reduces the overall cost of connecting to the grid.
The X35Q is ideal for grid constrained areas, sites with a small acoustic setback distance and areas with a low average annual wind speed. 
Power Production
The Class 3 Endurance X-35Q is the perfect answer to smaller sites with lower wind speeds. With a large rotor diameter of 35m and a swept area of 962m2 the X-35Q cuts in and generates more power at sites with a lower average wind speed than class 1 & 2 turbines.
With a 180kW generator, the X-35Q connects to the grid with an LV connection, rather than a HV connection required by +200kW machines. This means grid connections are often much cheaper to secure for an X35Q and the smaller generator allows a greater chance of securing a connection in grid constrained areas. 
The AEP table allows you to see what the annual energy production is likely to be based on the wind speed of your site.  If you aren't sure what your wind speed is you can find out by requesting a complimentary site assessment through Earthmill.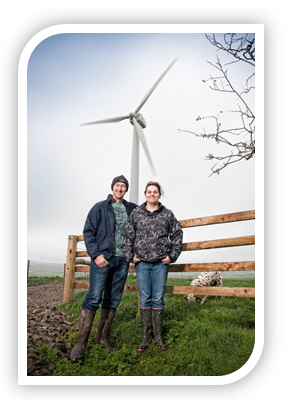 "The high electricity cost of running a dairy has prevented us from expanding. But the wind turbine will allow us to invest in doubling our capacity, hiring more local labour and buying more local supplies. "
 Matthew Rowe, Cornish Farmer
Power Curve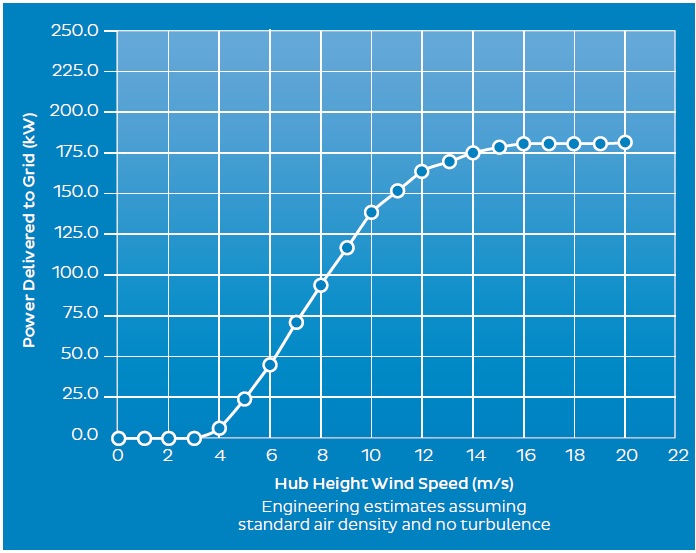 Annual Energy Production (AEP)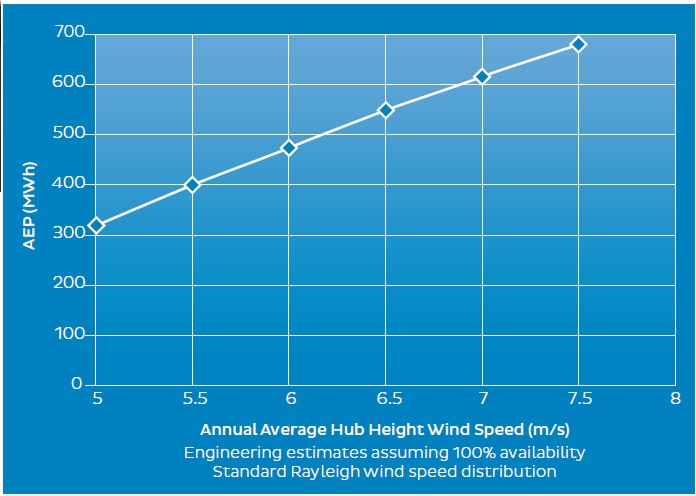 Annual Energy Production Chart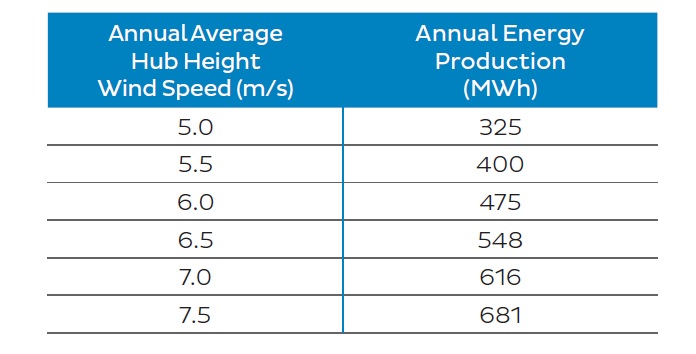 X Series Specs X35Q 180kW
Turbine
Configuration Three blade, horizontal axis, upwind
Rated Power 180kW 
Application Direct Grid Tie
Rotor Speed 25.1 RPM
IEC 61400-1 Turbine Class: IIIA
Maximum Average Wind Speed 7.5m/s
Survival Wind Speed 52.5 m/s or 117mph
Cutout Wind Speed 20m/s
Rotor
Rotor Diameter 35m
Swept Area 962m2
Blade Material Fiberglass Composite
Power Regulation Stall control
Generator
Generator Type Asynchronous, Induction
Configuration 3-phase, 400 VAC, 50 Hz
Brake & Safety Systems
Main Brake System Turnable Blade Tips
Secondary System Fail-Safe mechanical brake
Automatic Shutdown triggered by High wind speed, grid failure, over-speed, all other fault conditions
Controls
Control System User Interface Programmable Logic Controller (PLC) and ERIC™ Endurance Remote Interface Centre
Towers
Available Hub Heights 30.5m and 40.2m
Tower Type Free Standing Monopole, Internal Tower Ladder, Safe climbing system
Warranty
Standard – 5 year parts and labour,
Optional Extended warranty and performance warranties
Back to the Endurance X-Series
Service & Maintenance

Earthmill Maintenance provide comprehensive service and maintenance packages to keep your technology running at optimum efficiency.

About Service Packages

Condition Monitoring

The most important choice you can make to protect your turbine by identifying faults at an early stage to avoid major incidents

Find out more

Buy/Sell Turbines

Flexible options to cash in on your existing turbine by selling it to our partners or begin the process to purchase and install a new one

Buy/Sell Options