Overview
Power Production
Specification
---
Direct Drive Wind Technology
EWT turbines use direct drive technology to drive the synchronous generator without using a gearbox. Fewer moving parts means the turbine can reliably increase availability for energy generation. As a direct drive machine, output can be controlled making the turbine suitable for operation in areas with weak grid infrastructure. 
Advantages of EWT's Direct Drive Technology:
• High availability
• Low maintenance requirement 
• Quiet operation
• High annual energy production (AEP)
• Impressive financial returns
The company
EWT was established in the Netherlands in 2004. With offices in Europe, North America and Asia the company has installed over 500 turbines worldwide. EWT offer a full service(,) with in-house design engineers, international and domestic office support and comprehensive service and maintenance programs. 
DSP – DIRECTWIND Service Program
In order to maximise output and availability, EWT offer a comprehensive service and maintenance plan to ensure hassle-free operation. 
The DIRECTWIND Service Program offers:
• Preventive maintenance
• Corrective maintenance
• Availability guarantee
• Power curve guarantee
• Extended product warranty
• Business Interruption compensation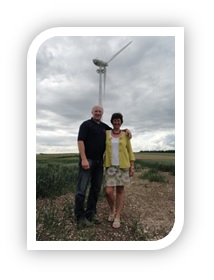 "Our turbines have reduced our energy bill on the farm by up to 90%"  – Tom Mellor, Yorkshire Brewery owner
---
High energy yields even in areas with modest wind speeds
The EWT DW52/54 makes the most of the sub 500kW FiT bracket. The impressive power curve demonstrates the EWT's ability to start generating from wind speeds as low as 3 m/s offering an extremely high energy yield and remarkable financial returns. 
The AEP chart allows you to see what the annual energy production is likely to be based on the wind speed of your site.  If you aren't sure what your wind speed is you can find out by requesting a complimentary site assessment through Earthmill.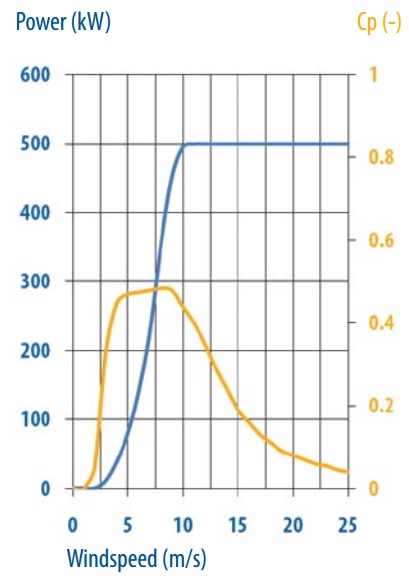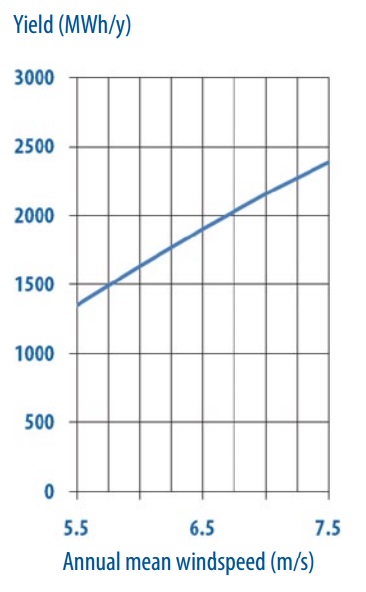 Rotor diameter 52/54m
IEC Wind Class IIA & IIIA
Rotor speed Variable 12 – 26 rpm
Nominal power output 500 kW
Hub heights 35, 40, 50 and 75 m
Cut-in wind speed 2.5 m/s
Rated wind speed 10 m/s
Cut-out wind speed 25 m/s,
10 min. avg. Survival wind speed 59.5 m/s
Power output control Pitch controlled variable speed
Generator Synchronous multi-pole wound-rotor
Power converter IGBT-controlled
Options EWT wind turbines can be delivered with a number of options
Aviation light
Shadow flicker
Ice detection
Cold climate package
Black blades
Service elevator (75m)
Type Certificate
IEC 61400 wind class IIIA (DW54)
IEC 61400 wind class IIA (DW52)
Drive System
Generator Synchronous air-cooled EWT-design, multi-pole, wound-rotor
Power convertor Full-power, IGBT-controlled AC-DC-AC 'back-to-back' type. 
Control System
Bachman PLC control system.
Possibility for remote access via TCP / IP internet and the DMS 2.0 * SCADA system. 
Tower
Type Conical tubular steel, internal ascent
Hub heights 35, 40, 50 and 75m.
Safety Systems
Main brake action Individual rotor blade pitch (three independent brakes)
Fail-safe brake Individual rotor blad pitch by three independent battery-powered back-up
Back to the EWT Wind Turbines
Service & Maintenance

Earthmill Maintenance provide comprehensive service and maintenance packages to keep your technology running at optimum efficiency.

About Service Packages

Condition Monitoring

The most important choice you can make to protect your turbine by identifying faults at an early stage to avoid major incidents

Find out more

Buy/Sell Turbines

Flexible options to cash in on your existing turbine by selling it to our partners or begin the process to purchase and install a new one

Buy/Sell Options