NPS 60C-24
Power Production
Specification
---
Perfect for lower wind speeds
The NPS 60C-24 is a class IIIA wind turbine with a large swept area designed for optimal performance in lower wind speeds. The turbine will start generating at wind speeds as low as 3m/s and works at optimal performance in speeds between 11 and 15m/s.   
Reliable

Using direct drive technology and requiring no gear box, the NPS uses fewer moving parts. NPS boasts a 99.5% availability across their fleet of NPS60C wind turbines. 
Planning friendly
With 22m, 29m and 37m tower options available, the NPS 60C has a range of solutions to meet maximum tip height planning requirements in your area. A new colour has been used on the tower and nacelle to minimise visual impact. 
Excellent returns
The 60kW generator produces a high energy yield which provides excellent financial returns. The turbine is well suited to farms as well as small commercial and industrial sites.  
Simple grid connections
NPS turbines come with a 400-volt transformer and RTU data logger as standard as well as a utility grid protective relay interface (G59/2). The turbine produces electricity at an even frequency which simplifies your grid connection.  
10-Year Performance Guarantee Programme (PGP)
Northern Power offer a 10 year PGP covering O&M costs, spare parts, labour and expenses for the NPS 60C. 
The cost of the guarantee is calculated based on the performance of the turbine, and is backed by availability and power curve guarantees. This means NPS have a vested financial interest in ensuring your machine is operating at optimum performance for the duration of the turbine's lifespan.  
Also included in PGP:
• As well as being monitored by the Earthmill team, the turbine will have 24/7 management from the NPS operations teams in the UK, Italy and the U.S.
• Global Spares Management Programme: NPS offers a rapid spare-part delivery service for same or next day delivery which minimises 'down time' in instances when maintenance is required.
---
The NPS 60C-24 is a class 1IIA machine with a 24m rotor diameter designed for maximising annual energy production (AEP) at sites with an average annual wind speed of 7.5m/s and below.
The NPS 60C-24 is a direct-drive machine which uses magnets instead of a gear box to enable the output to be 'dialled back' to a lesser amount. The model has proven ideal for areas with grid restraints.
The output can readjusted back to its full potential at any time if upgrades are made to the grid infrastructure at a later date. 
The graphs on the right show the power curve and AEP for the NPS 60C-24 at full output.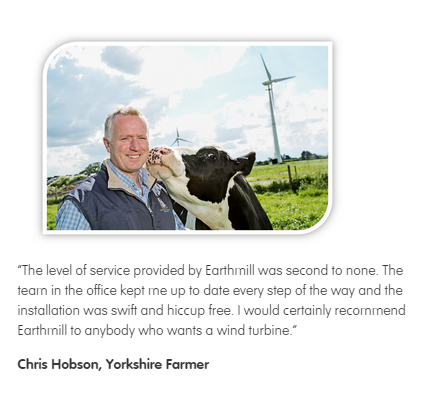 Power Curve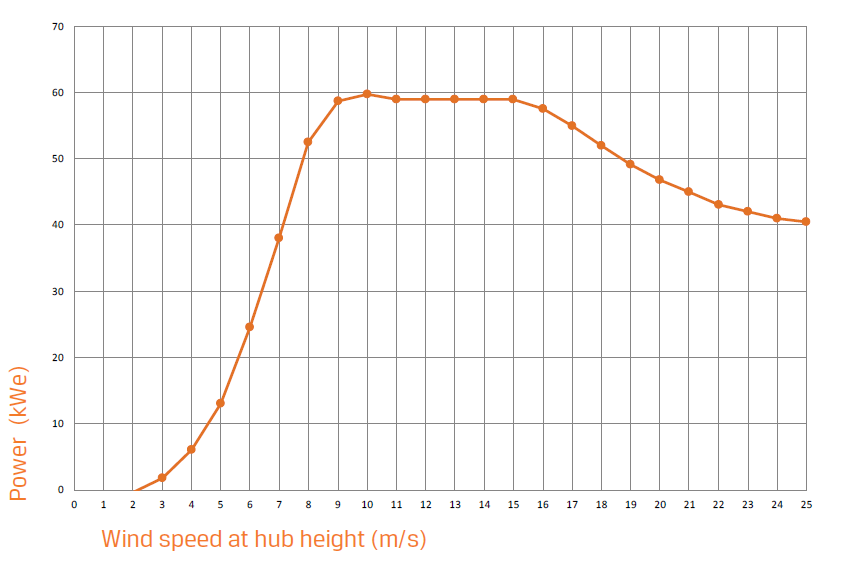 Annual Energy Production (AEP)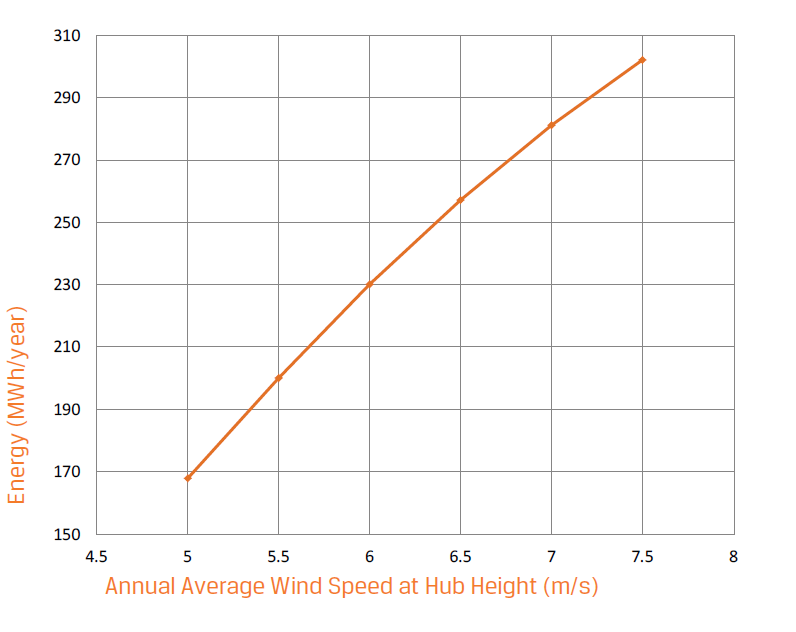 Annual Energy Production Chart

NPS60C-24 60kW
General Configuration
Model Northern Power® 60C-24
Design Class IEC WTGS III/A air density 1.225 Kg/m3, average annual wind below 7.5 m/s, 50-yr peak gust below 52.5 m/s
Design Life 20 years
Rotor Diameter 24.4 m
Tower Type Tubular steel monopole
Hub Height 37 m, 29 m, 22 m
Orientarion Upwind, 3 blade
Yaw System Active yaw drive with wind direction/speed sensors and automatic cable unwind
Power Regulation Variable speed, stall control
Certification CE compliant, CEI 0-21
Performance
Rated Wind Speed 11 m/s
Cut-in Wind Speed 3 m/s
Cut-out Wind Speed 25 m/s
Extreme Wind Speed 52.5 m/s
Weight
Rotor (24 m) & Nacelle 7,800 kg
Tower (37 m) 14,000 kg
Drive Train
Gearbox Type No gearbox (direct drive)
Generator Type Permanent magnet
Braking System
Redundant Braking System (per IEC 61400-1ed3) Generator dynamic brake and multiple
hydraulic calipers
Control System
Controller Type DSP-based multiprocessor embedded platform
Converter Type Pulse-width modulated IGBT frequency converter
Monitoring System SmartView® remote monitoring system, ModBus TCP
Electrical System
Rated Electrical Power 59.9 kW, 3 Phase, 400 VAC, 50 Hz
Power Factor Set point adjustable between 0.9 lagging and 0.9 leading
Reactive Power +/- 30 kVAR 
Grid Interconnect Utility approved protective relay included
Noise
Apparent Noise Level 55 dBa at 40 metres from nacelle
Electrical Specifications
Temperature Range Operational -10°C to 40°C
Temperature Range Storage -20°C to 50°C
Lightning Protection Receptors in blades, nacelle lightning rod and electrical surge protection
Back to the Northern Power Wind Turbines
Service & Maintenance

Earthmill Maintenance provide comprehensive service and maintenance packages to keep your technology running at optimum efficiency.

About Service Packages

Condition Monitoring

The most important choice you can make to protect your turbine by identifying faults at an early stage to avoid major incidents

Find out more

Buy/Sell Turbines

Flexible options to cash in on your existing turbine by selling it to our partners or begin the process to purchase and install a new one

Buy/Sell Options