Overview
Power Production
Specification
---
Endurance E4660 85kW
Quietly maximising output and efficiency 
Based on the classic E-series design, the new more efficient E-4660 85kW wind turbine demands a 35% higher energy yield than the E-3120. This has been made possible with the development of larger blades which increases the swept area of the turbine.
Endurance claim the improved efficiency is the equivalent of turning back the clock on the Feed-In-Tariff by 2 years.
The class IIA machine generates energy at a lower rotor speed of just 33RPM. This creates less noise, rendering the E-4660 as the quietest turbine in its class, and slashing the distance required as a buffer zone between the turbine and neighbouring properties to just 170m
Earthmill installed the first 85kW Endurance E4660 on the UK mainland in July 2015.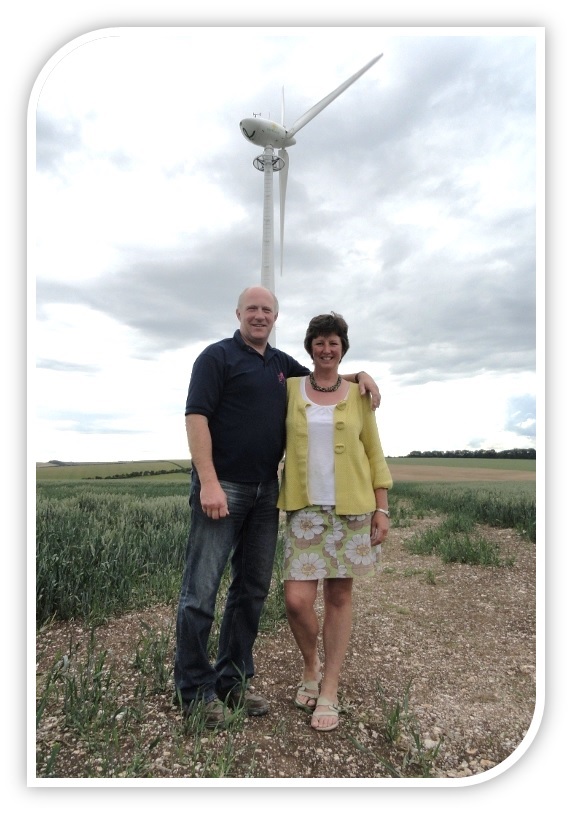 "Our turbines have reduced our energy bill on the farm by up to 90%"
The Mellors, Yorkshire brewery owners
---
Power Production
Power Production
The E-4660 Endurance turbine is classified as a 85kW wind turbine.  Often manufacturers rate wind turbines at their peak performance, however Endurance rate their turbines by their average performance. The E-4660 actually peaks at 98kW output and therefore must be registered to OFGEM as such. 
The AEP table allows you to see what the annual energy production is likely to be based on the wind speed of your site.  If you aren't sure what your wind speed is you can find out by requesting a complimentary site assessment through Earthmill.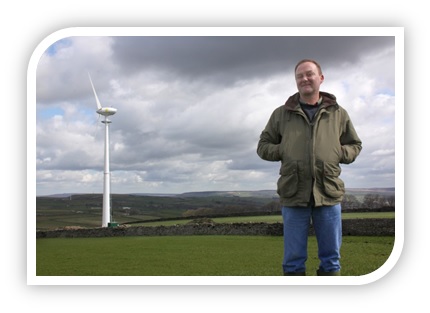 "It's great to be able to show people what the turbine's doing and how
many houses needs it has produced. It was especially nice to be able
to keep an eye on it from the other side of the world when on holiday"
Jonathan Sharp, Yorkshire farmer
 
"It was fantastic. I just wish everything in life was as simple as that.  All
the work, including the planning application, was done by Earthmill"
Guy Benson, East Ridings farmer
Power Curve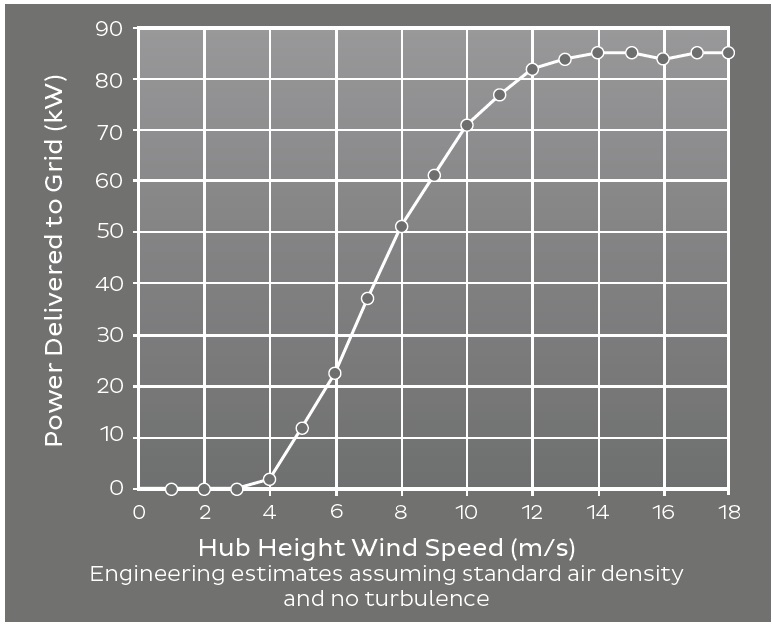 Annual Energy Production (AEP)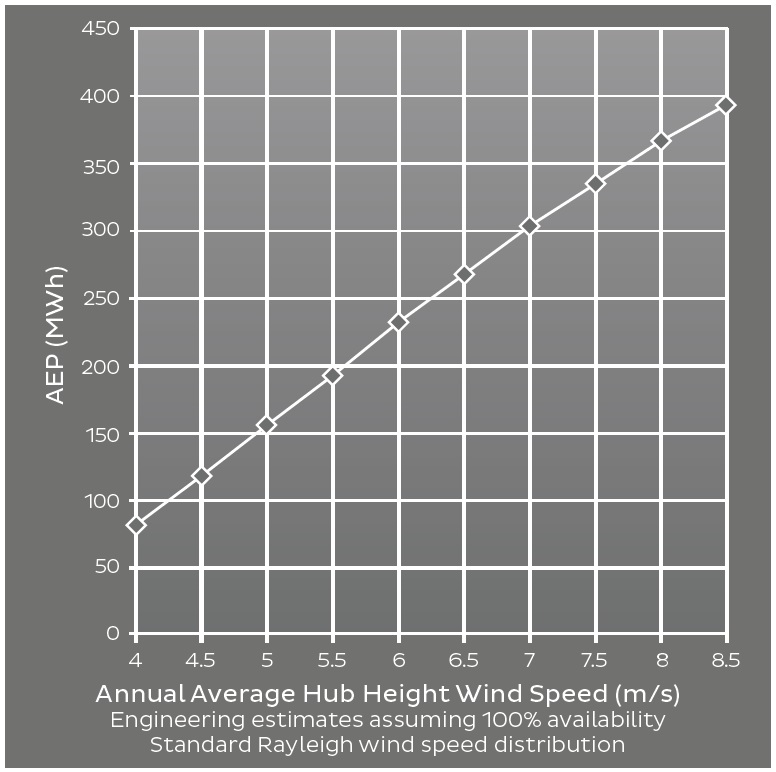 Annual Energy Production Chart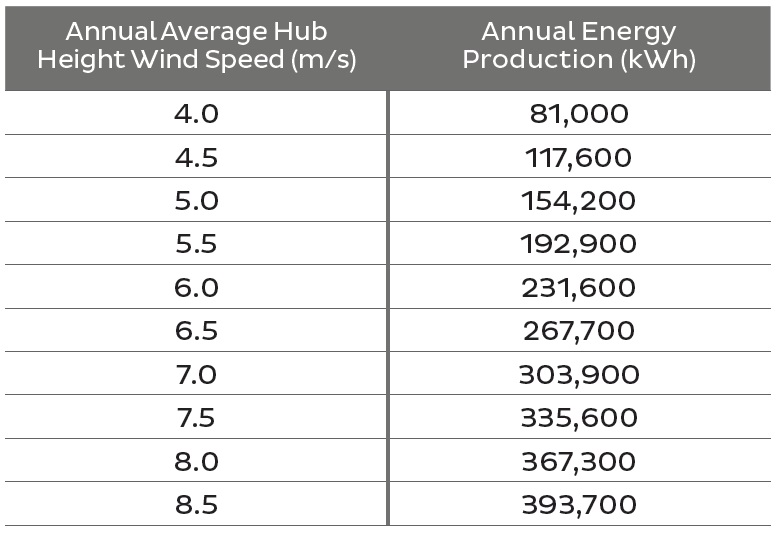 Specification
E Series Specs E4660 85kW
Turbine
Configuration Three blade, horizontal axis, downwind
Rated Power 85kW at 15 m/s
OFGEM TIC/DNC 98kW/97kW
Application Direct Grid Tie
Rotor Speed 33 RPM
IEC 61400-1 Turbine Class: IIA
Maximum Average Wind Speed 8.5m/s
Survival Wind Speed 59.5 m/s or 133mph
Cutout Wind Speed 25m/s
Overall Weight 6200kg / 13700lbs
Rotor
Rotor Diameter 23.5m
Swept Area 434m2
Blade Material Fiberglass Composite
Power Regulation Stall control
Generator
Generator Type Asynchronous, Induction
Configuration 3-phase, 400 VAC, 50 Hz
Brake & Safety Systems
Main Brake System Rapid Fail-Safe dual mechanical brakes
Secondary System Spring-loaded pitch mechanism for over-speed regulation
Automatic Shutdown triggered by High wind speed, grid failure, over-speed, all other fault conditions
Controls
Control System User Interface Programmable Logic Controller (PLC) and ERIC™ Endurance Remote Interface Centre
Towers
Available Hub Heights 24.8m and 36.6m
Tower Type Free Standing Monopole, Safe climbing system
Warranty
Standard – 5 year parts and labour
Back to the Endurance E-Series
Service & Maintenance

Earthmill Maintenance provide comprehensive service and maintenance packages to keep your technology running at optimum efficiency.

About Service Packages

Condition Monitoring

The most important choice you can make to protect your turbine by identifying faults at an early stage to avoid major incidents

Find out more

Buy/Sell Turbines

Flexible options to cash in on your existing turbine by selling it to our partners or begin the process to purchase and install a new one

Buy/Sell Options