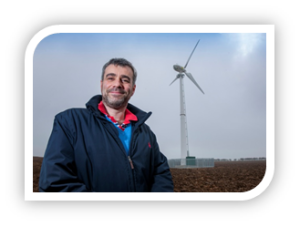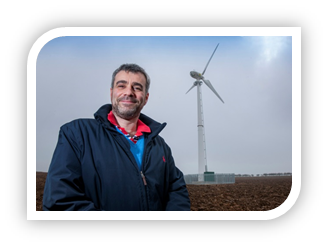 "It was fantastic. I just wish everything in life was as simple as that.  All the work, including the planning application, was done by Earthmill"
Guy Benson, East Ridings Farmer
---
Earthmill Maintenance stands head and shoulders above other wind turbine suppliers because of our comprehensive service and ability to handle to the entire project in-house from start to finish.
Before we come out to do a physical site assessment, we can do a desktop assessment to ascertain whether you have a suitable site.  Desktop site assessments are quick and carried out without charge or obligation by one of our in-house specialists.
If you have a suitable site and would like to go ahead with the project, we will apply for planning permission, deal with any unexpected complications and carry out the installation.  We will also coordinate your grid connection, Ofgem registration and conduct any necessary turbine maintenance and servicing.
You will be appointed a personal project manager who will liaise with you and carry out the administration of your turbine project on your behalf, so you won't speak to a different person every time you contact us.  You can find out more about each aspect of the service Earthmill offers by looking through our services, starting here.
---
Service & Maintenance

Earthmill Maintenance provide comprehensive service and maintenance packages to keep your technology running at optimum efficiency.

About Service Packages

Condition Monitoring

The most important choice you can make to protect your turbine by identifying faults at an early stage to avoid major incidents

Find out more

Buy/Sell Turbines

Flexible options to cash in on your existing turbine by selling it to our partners or begin the process to purchase and install a new one

Buy/Sell Options